Dr. Seuess wrote, "Every day, from here to there, funny things are everywhere." One of the reasons why I love teaching Kindergarten is because you get to be silly. In fact, you practically have to be silly if you want to be most successful.
The other day, I gave my students an opportunity to write and illustrate their own silly stories, after reading One Fish, Two Fish, Red Fish, Blue Fish by Dr. Suess. If you've ever read it, it's full of rhyming, nonsensical short stories that the kids love to laugh and laugh about.
After giving them a moment to think creatively, I handed them their papers and let them run with their imaginations. Here's some of the silly stories they came up with:
4)
She went to the restroom. Mariah is her name. It was the boys.

5)
Pop. He is on the cap. He is cool. He has three eyes.
6)
My snack is Ed. Ed jumped.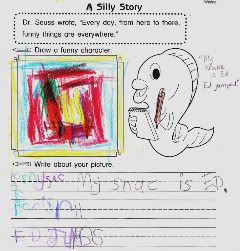 So what's your vote on the funniest?
1. The girl on the potty?
2. Goop the Vilgaks?
3. Play play play play?
4. A girl in the boys restroom?
5. Pop with three eyes?
6. The snake that jumped?